Lithuanian Pavilion at the Venice International Architecture Biennale

Via Giuseppe Garibaldi
1815 Venice
Italy
www.swamp.lt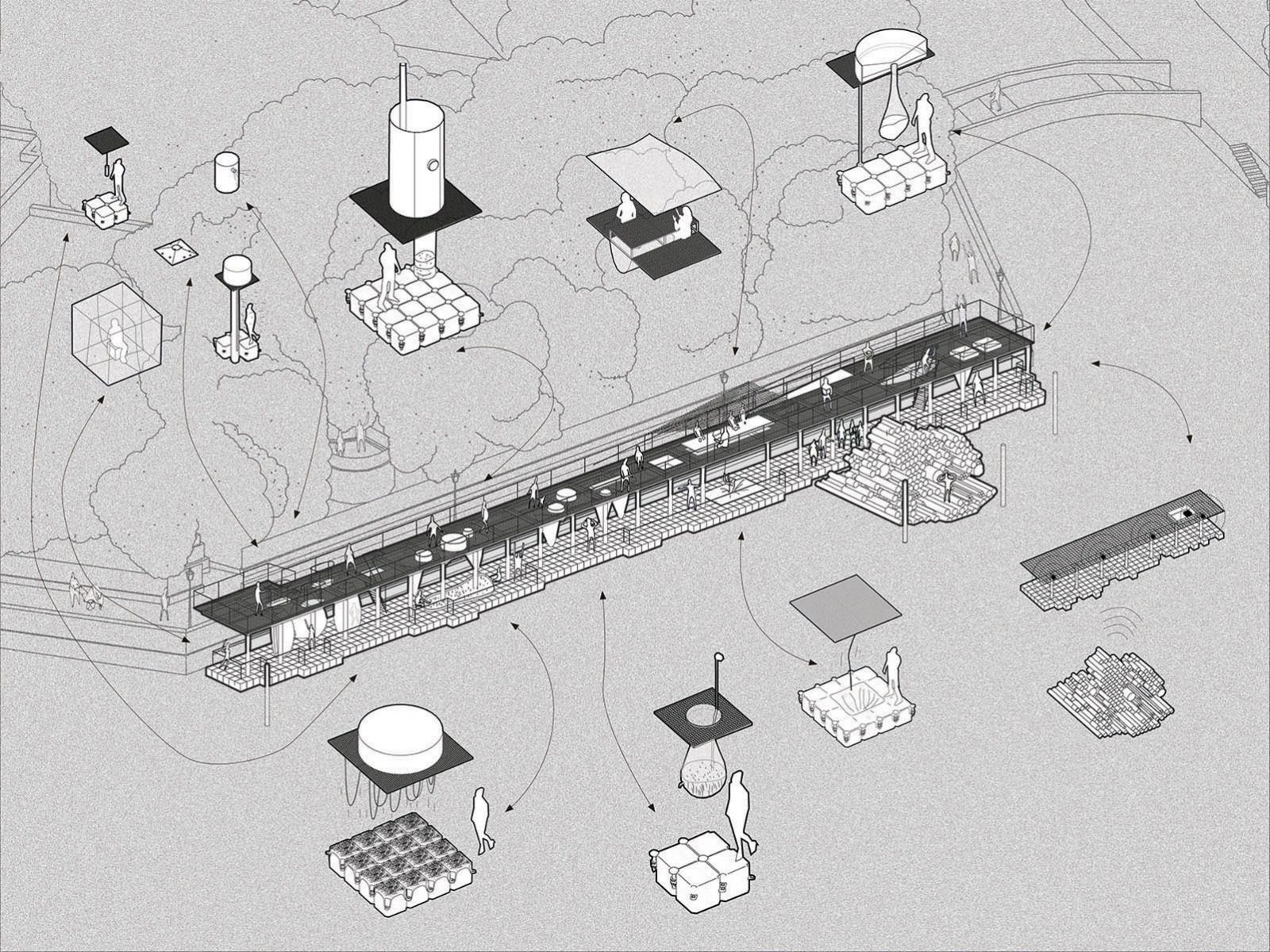 Paulius Vaitiekūnas, Andrius Ropolas, Jautra Bernotaitė. The Swamp Pavilion. 2018
The School of Love presentation and discussion by Adva Zakai and a.pass
SWAMP PAVILION
The Swamp Pavilion is a networked effort in creating new imaginary hybrid space for exercises in architectural and artistic practices, theory and pedagogy through various forms and formats of public interventions, field trips, workshops, lectures, discussions, chat channels and printed publications.
Construction exercise
The grounding workshop of the Swamp Pavilion interrogates the relevance of a single country's representation in the times of transnational crisis – existential threats of war and mutually assured destruction, of climate change and its enforcement of new global patterns of disaster and migration. Imaginigs of ephemeral architecture suspended between air and water allows one to look for new models for national borders which, rather than create divisions and mark territorial claims, instead propose novel forms of coexistence and interaction.
SWAMP SCHOOL
Throughout the Biennale Architettura 2018, the Swamp School will function as a changing, flexible, open-ended infrastructure that supports experiments in design, pedagogy and artistic intelligence. Invited designers and scholars will conduct performative lectures and lead workshops for participants and visitors to the Biennale.
On cohabitation
Date: September 24-29, 2018
Through contributions by theorists, designers and artists this chapter will interrogate the commons as an ideology – an aesthetic of the real – as a way of giving a form to society and our contemporary human condition. With an understanding of aesthetics as 'the art of thinking beautifully,' as way of seeing a better, more beautiful world, this chapter will learn from the reciprocating movements for the commons asking questions: how is the commons constituted in society, how does it shape our reality of living together, and what strategies and what aesthetics do artistic commoners follow?
10:30 AM – 1:00 PM Morning program:
We Cannot Work Like This: Decolonial Practices and Degrowth a transnational alliance of schools in the frame of the Contour Biennial 9: Coltan As Cotton, organized by Nataša Petrešin-Bachelez, curator (France/Slovenia) in collaboration with Adam Kaasa, Merve Bedir, Zheng Bo, Peter Westenberg, Jozefien Mombaerts, Willeke Van Herreweghe, Mathieu Charles, Robin Vanbesien and Petra Van Brabandt, Nico Dockx, Elena Sorokina, Kobe Matthys, Giampiero Caiti, Olivier Marboeuf
2:00 – 5:00 PM Afternoon program:
Turfiction seminar and workshop by Tinna Grétarsdôttir, anthropologist (Iceland), Sigurjón Baldur Hafsteinsson, anthropologist (Iceland), Hildigunnur Sverrisdóttir, architect (Iceland) and Hannes Lárusson, artist (Iceland)
6:00 – 7:30 PM Evening program:
Eco-commoning in the Aftermath: Sundews, Mangroves and Swamp Insurgencies lecture by Maria Puig de la Bellacasa, STS scientist, and Dimitris Papadopoulos, sociologist, (UK)
8:00 – 9:00 PM
Swamp Soup Kitchen dinner: Recipe 3 by Asako Iwama & Sen Uesaki, artists (Japan)
9:00 – 9:30 PM
Seed bombs performance / workshop by Cadine Navarro, artist (Japan/France)
9:30 – 10:00 PM
Blueprint for Revolution lecture performance by Mark Požlep (Slovenia), 45 min., 2017
Friday, September 28
10:30 AM – 11:30 AM Morning program:
The School of Love presentation and discussion by Adva Zakai and a.pass/advanced performance and scenography studies (Belgium)
11:30 AM – 1:00 PM
Visible introduction and Temporary Parliament workshop, part 1 by Matteo Lucchetti & Judith Wielander, Visible co-directors (Italy, Belgium)
2:00 – 5:00 PM Afternoon program:
Temporary Parliament workshop, part 2 by Matteo Lucchetti & Judith Wielander in dialogue with Pelin Tan, sociologist (Turkey), and other guests
6:00 – 8:30 PM Evening program:
A village situated on a stream lecture by Aroon Puritat (The Land Foundation), architect (Thailand)
8:00 – 9:00 PM
Swamp Soup Kitchen dinner: Recipe 4 by studio Olafur Eliasson, artist, (Denmark/Germany)
9:00 – 9:30 PM Film screening:
La Montagne de Venise / The mountain of Venice, film by Jean-Baptiste Decavèle with Yona Friedman. 18 min., 2016
Saturday, September 29 
11:00 – 13:00 Morning program:
Final discussion by all participants
Socialist Bikes Initiative lecture by Leander Schönweger, artist (Italy), 20 min.
1:00 – 2:00 PM Swamp Tea
Full program and participant list can be found at The Swamp Pavilion.